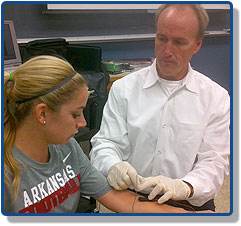 Frequently Ask Questions About EMGs
What is an Electromyography test (EMG)?
Why is an EMG test done?
Why am I being sent to the EMG Clinic?
How should I prepare for the test?
When will I know the test results?
What is an electromyography test (EMG)?
Electromyography (EMG) is a test that is used to record the electrical activity of muscles. An electromyogram is a graphic record of the study. When muscles are active, they produce an electrical current. This current is usually proportional to the level of the muscle activity. An EMG is also referred to as a myogram.
EMG's can be used to detect abnormal muscle electrical activity that can occur in many diseases and conditions, including muscular dystrophy, inflammation of muscles, pinched nerves, peripheral nerve damage (damage to nerves in the arms and legs), amyotrophic lateral sclerosis (ALS) (also known as Lou Gehrig disease), myasthenia gravis, disc herniation, and others.
<top>
Why is an EMG test done?
An EMG is most often performed when patients have muscle pain, numbness, tingling or weakness. The EMG helps to distinguish between muscle conditions in which the problem begins in the muscle and muscle weakness due to nerve disorders. The EMG can also be used to detect true weakness, as opposed to weakness from reduced use because of pain or lack of motivation.
Why am I being sent to the EMG Clinic?
You are being sent to the EMG Clinic because you have experienced numbness, tingling, pain, weakness, and or muscle cramping. Electrodiagnostic medicine studies the diseases or abnormalities of the nerves and muscles. You can have problems with your nerves and muscles in only one part of your body or throughout your entire body. Some of the tests Dr. Johnson may use to diagnose your symptoms are nerve conduction studies (NCS) and needle electromyography (EMG.) The results of these tests will help your primary care doctor decide what is wrong and how you can be treated. These tests usually take approximately 30 minutes.
Nerve Conduction Studies

NCS show how well the body's electrical signals are traveling in a nerve. This is done by applying small electrical shocks to the nerve and recording how the nerve works. These shocks cause a quick, mild, tingling feeling. The doctor may test several nerves.

Needle Electromyography

For this part of the exam, a small, thin needle is inserted into several muscles. There may be some minor pain when the needle is inserted. The doctor will look and listen to the electrical signals that travel from the muscle to the EMG monitor.
How should I prepare for the test?
Take a bath or shower to remove all oil from your skin. Do not use body lotion or powder on the day of the test. On the day of the appointment please bring a list of any medications you are taking, and all insurance cards so that we can make copies. Also if you have a co-pay deductible or any other payment previously discussed with you please bring it to your appointment.
Tell Dr. Johnson if you are taking aspirin, blood thinners (like Coumadin,) or have a pacemaker, or have hemophilia. If you have myasthenia gravis, please call your primary care physician 24-48 hours prior to your appointment and ask him if you should take any medications before your EMG test.
If you would like a copy of your test results please inform Dr. Johnson's assistant either upon your arrival or directly after your test so she can have you fill out a medical release form and we can get it to you as quickly as possible.
If you have any questions please feel free to call our office at 479-251-8055.
When will I know the test results?
Dr. Johnson will be sending your preliminary report to your referring doctor the day of your test. The full report will follow within two to three days. He will also review the test results with you to answer any questions you may have. Please call your primary care doctor to schedule a follow up appointment to further discuss your test results, and go over any work up or treatment options as indicated.