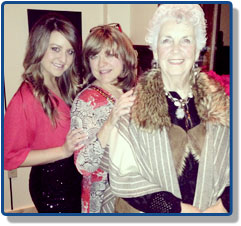 Left to right: Tayler Bair (Physician Liaison / Medical Assistant); Carol Groves (Office Manager / Medical Assistant); Jo Lewis (Receptionist)
Why use Northwest Arkansas EMG Clinic
Was Your Last EMG Done by a Qualified Physician?
EMG's and nerve conduction studies are excellent diagnostic tools when performed by skilled physicians or technicians who devote much of their practice to this specialty. For excellent and reliable results that avoid unnecessary delays in treatment and unnecessary surgeries, it is essential that physicians and patients alike insist that:
The provider physician has specialized training.
The providing test center has an extensive database of completed tests to fully understand the diversity of possible results in the test population.
The test results are monitored in view of possible exceptions reflected in the database to avoid faulty conclusions and sources of error.
The providing test center has modern equipment with sophisticated, computerized stations that can be used to give instant results for each patient.
EMG's and nerve conduction studies are excellent tests if done correctly. Why are these done poorly?
If test are done poorly, by inadequately trained technicians, it can lead to unnecessary surgery.
Substandard equipment. Like other areas of medicine, the sophistication of EMG equipment has improved rapidly with new technology now an important part of the testing.
To make sure you are getting proper care and treatment:
Make sure that these tests are performed in either a physiatrist's or neurologist's office.
Be cautious regarding hand held units.
Try to determine if the EMG trained physician is actually on the premises when these tests are being performed.
Look at the policy statement on the internet for the American Association of Electrodiagnostic Medicine (www.AANEM.net)
Why we are different
Based in Fayetteville, Arkansas this one physician group serves several NWA communities. In business since 1995 NWA EMG Clinic limits its practice to state-of-the-art nerve and muscle testing (electromyography). This narrow focus allows the clinic to stay abreast of new technological developments and techniques. Our physician is board certified and only practices electromyography. Area physicians have come to depend on our clinic for reliable and quick results to assist them in the treatment of their patients.
Reasons why Providers Send Patients to Us:
Board certified physician who exclusively performs nerve and muscle testing.
State-of –the-art equipment.
Better clinical correlation.
Reports available within 48 hours.
Easy to understand report format.
Convenient clinic locations throughout Northwest Arkansas.
We participate in on-going EMG-related education.
We accept most insurance programs.
Friendly clerks at toll-free appointment desk with quick scheduling.
Conditions We Evaluate:
Carpal Tunnel Syndrome
Ulnar Neuropathy at the elbow
Peripheral Neuropathy
Cervical and Lumbar Radiculopathy
Individual nerve injuries
Any problem that involves pain, weakness or numbness in the upper or lower limbs.